We have expanded!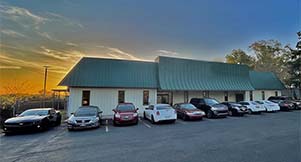 It wasn't an April Fool's prank when we announced our acquisition of United Linen Services' Shreveport Processing Facility on April 1! Crown Health Care Laundry Services is thrilled to better serve our northern Louisiana customers and expand our territory to Texas and Arkansas.
The new Shreveport location brings Crown's footprint to eight full-service processing plants located in Louisiana, Mississippi, Alabama, Georgia, Florida and South Carolina. We are excited by the opportunity to expand our linen and linen management services to Texas and Arkansas.
No matter our size, Crown will continue our promise of quality linens and customer-first philosophy as we continue our path of being THE quality healthcare linen provider in the southeast.
We welcome our new customers to our best-in-class service and our new team members to the Crown family.
Questions about our new Louisiana, Texas and Arkansas service areas? Contact:
Craig Waltman
Vice President West Division
Crown Health Care Laundry Services
850-637-3860
craigw@crownlaundry.com