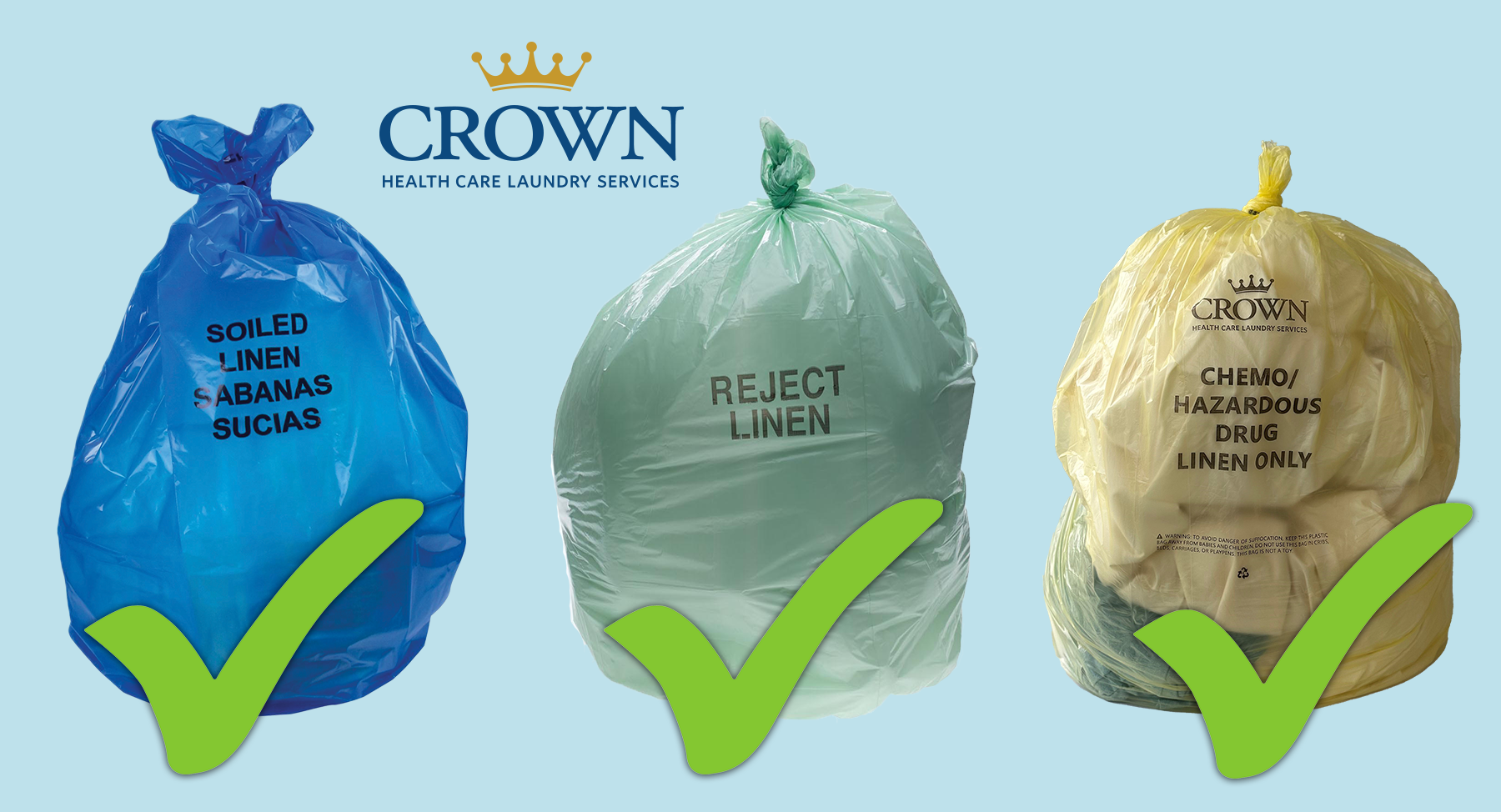 It's how you bag it!
Are your staff bagging your facility's linen properly? It sounds too simple to be true, but proper linen handling like using the right BAG for your linen can reduce your overall linen spend and close a gap in your infection prevention protocols.
While the color of the bag color may vary by facility, Crown encourages the following color-coded bags usage for patient care and non-patient care linen:
Blue for Soiled Linen – ALL soiled linen should be placed in the blue bag, no matter the soil level.
Green for Reject Linen – Any CLEAN linen that does not meet your quality standards due to excessive straining, holes, tears or other defects should be placed in the green bag. Your facility receives 100% credit for linen returned in a green reject bag.
Crown Yellow for Hazardous Drug/Chemotherapy Drug Exposed Linen – Crown Health Care Laundry Services is one of the only linen providers to process linen used by patients receiving hazardous drug/chemotherapy treatments following OSHA's safe handling and rewashing requirements. Crown has a specifically designed bag for this use that tells our staff that extra precautions are needed.
Bags that should never be used for any linen:
Black/Clear for Trash – Linen, no matter the level of soil, is never trash.
Red or Yellow Biohazard – Linen, no matter the amount of blood, feces or other bodily fluids, is never a biohazard.
Crown customers can request reject bags at no cost. We offer competitive pricing for soiled linen bags, HD/Chemotherapy exposed linen bags, and soiled linen hampers - both rental and direct sale. Take advantage of one vendor, one delivery and one invoice!
Crown also offers our customers free educational materials like flyers, posters and videos. For more information, contact your customer service representative or click here.