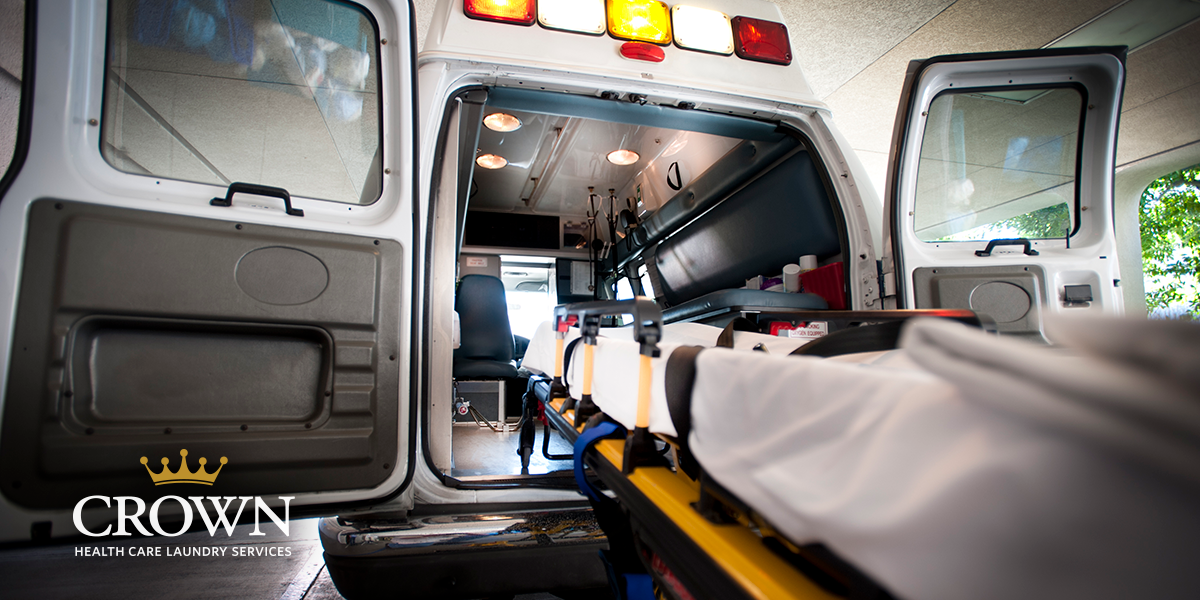 Don't Let Your Linen Go Out the Door
The problem of lost patient care linen is not new. U.S. hospitals lose hundreds of thousands of dollars annually due to linen leaving the facility. One of the most significant loss areas can be EMS and inpatient transfers.
According to the Textile Rental Services Association, or TRSA, a medium-sized ER can lose up to 300 pounds of linen daily due to "restocking" by EMTs. This unreturned linen can significantly increase your linen loss numbers.
With an estimated 90% of linen used in hospitals not reaching its total life expectancy, this leads to unnecessary spending on new linens when existing ones could have been reused many more times.
Crown Health Care Laundry solutions
Crown Health Care Laundry Services offers a solution to the loss of linen from transfers, our orange-dyed linen program. Our orange-dyed linen program uses patient care linen that has been evaluated and removed from in-facility use due to imperfections. While these items have been removed to help safeguard patient satisfaction, the linen does not meet ragout levels and can still be used in the transport setting.
This practice is a solution to several issues. It ensures that EMS and transport teams have the linen they need for quality patient care, helps safeguard your best linen for in-house use, and assists conservation efforts by extending the life of the linen item.
Crown offers orange-dyed:
Flat sheets
Pillowcases
Warming/bath blankets
Washcloths
Towels
Additionally, the orange color helps your staff and EMS or transport members easily and quickly identify which linen is acceptable to leave your hospital.
By offering orange-dyed linens designed explicitly for patient transport use, Crown is helping create a new standard that prioritizes both savings and quality throughout the life of your linen.
Leave one, take one!
When transporting a patient from one facility to another, hospital, EMS, and transportation company staff should be trained to take the following steps:
Orange-dyed linen should be kept on a covered exchange cart or in a linen room easily accessible by EMS and transport staff. Par levels should be monitored and tracked to avoid under/overstocking.
Leave one! When bringing a patient to the ER, all reusable soiled linen should be placed in the proper soiled linen bag (typically a blue soiled linen bag and hamper).
Take one! On their way out, staff should only use the orange-dyed linen for the next patient or to restock their vehicle.
Accessibility is everything. If items are unavailable, difficult to find, or move locations too often, outside and internal staff will revert to using your white linen for patient transfers.
Continuing education and communication
Ordering and stocking orange-dyed linen is just part of the process. You must continually communicate proper linen use for transfers to your staff and those who transport your patients. Ideas include:
Use signage delineating which linen is for transfers.
Consider sending a letter or meeting with the EMS and transport companies that service your location specifically on orange-dyed linen use.
Make linen utilization part of your onboarding process.
Conduct ongoing training throughout the year on best linen practices.
Your Crown service representative can assist! For more information on our orange-dyed linen program and educational material, contact your Crown Customer Service Representative or click here.