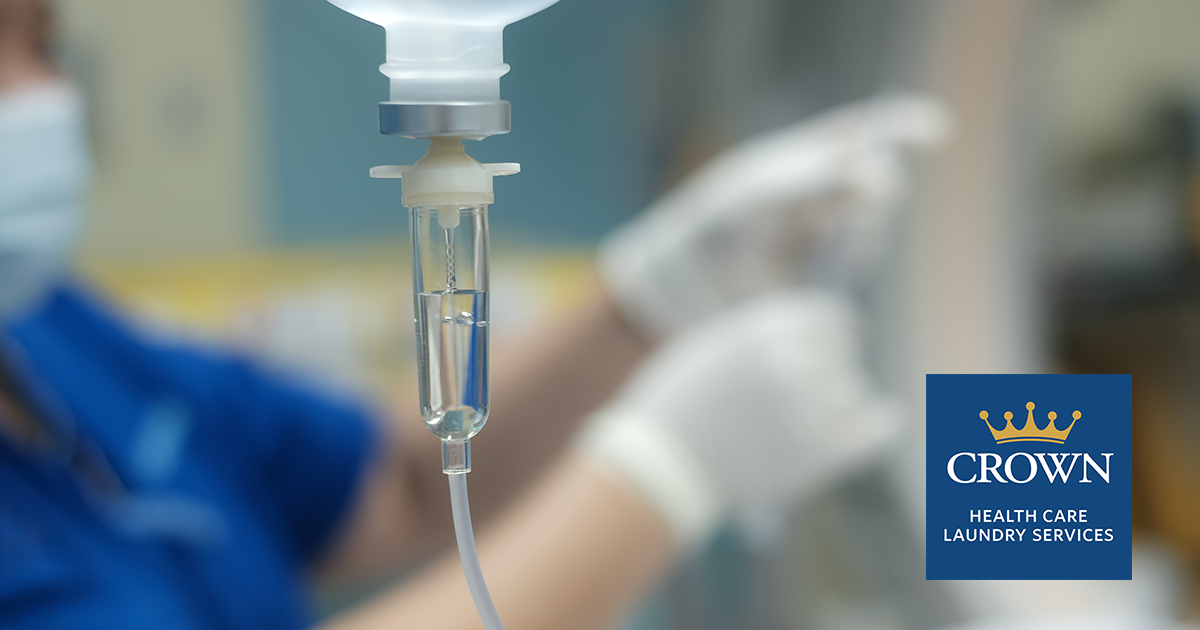 Crown's New Hazardous Drug Linen Service: Setting the Standard
Crown Health Care Laundry Services is excited to offer a new service tailored for linens used by patients undergoing hazardous drug/chemotherapy treatments. While OSHA has specific processes and procedures, many providers choose not to handle HD/Chemo linens. As a result, these linens often end up in hazardous waste bags and get discarded, leading to linen losses for the facility. Our initiative emphasizes linen utilization and safety protocols, helping to reduce linen loss while focusing on the well-being of your facility's patients, visitors, employees, and the Crown team.
Understanding the risks of HDs
Patients treated with hazardous drugs, or HD, excrete drug residues in their body fluids. Anyone coming in contact with the linens — be it hospital staff or our team members at Crown — can potentially get exposed to these residues. This means that linen that has been in contact with patient excreta from someone administered an HD is considered a handling risk for at least 48 hours. Notably, some drugs can retain their active properties for up to seven days.
The Significance of prewashing
While the 48-hour window is crucial, OSHA goes a step further. They require a prewash for any HD-exposed linen, irrespective of the time since exposure. This isn't a step to overlook. If linens exposed with HD residues are not prewashed, they can contaminate the water in Crown's Continuous Batch Washers. This puts the specific linen batch at risk and all the linens in that machine.

Our safety process includes:
At your medical facility: Your staff should handle the HD-exposed linen minimally. It should be immediately bagged at its point of use in the labeled, color-coded bags offered by Crown.
Storage before pickup: The impacted bagged linen should be held in your facility's soiled linen room for 48 hours before our drivers pick it up.
Prewashing at Crown Processing Facilities: At our Crown Processing Facilities, the HD-contaminated linens are handled by staff wearing PPE and are washed twice. First, the linen is prewashed separately from other linen in special washers so not to contaminate non-exposed linens. Next, the items are added back to our soiled linen line for a second wash following our typical wash procedures
Recommendations and standards
Our HD linen process is shaped not only by OSHA's guidelines but also by recommendations from:
Oncology Nursing Society
Hematology/Oncology Pharmacy Association
National Association of Institutional Linen Management
National Institute for Occupational Safety and Health
American Society of Health-System Pharmacists
Getting started with our HD program
With the introduction of this new HD service, Crown is addressing an often-overlooked need in the healthcare linen industry. Our systematic approach, backed by expert guidelines, prioritizes safety, ensuring the well-being of patients, hospital staff, and our team. If our HD service aligns with your facility's needs, please reach out to your Crown representative or click here to contact us. We're here to guide you on initiating this program at your location, ensuring top-notch safety standards are met.